My Favourites
This page contains many of the weird and wonderful snippets of reporting I have been privileged to come across in my various travels and travails.
They often came my way on scraps of photocopied paper so their authenticity cannot be guaranteed. I hope they brighten your day as they have done mine on numerous occasions and provide a degree of sanity in a sometimes crazy world!
---
I cannot guarantee the authenticity of this memorandum but how often have you wondered the purpose of your existence working in the nether reaches of your organisation's territory or the meaning of Head Office instructions? Its a sobering and consoling thought that many others have gone before us!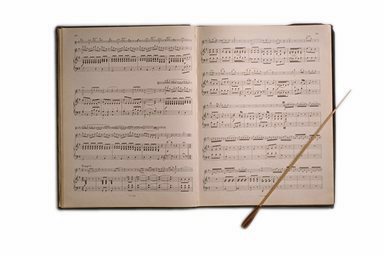 Duke of Wellington's Despatch from Spain to Whitehall
Gentlemen,
Whilst marching from Portugal to a position which commands the approach to Madrid and the French forces, my officers have been diligently complying with your requests, which have been sent by H.M. ship from London to Lisbon and thence by dispatch rider to our headquarters.
We have enumerated our saddles, bridles, tents and tent poles, and all manner of sundry items for which His Majesty's Government holds me accountable. I have dispatched reports on the character, wit, and spleen of every officer. Each item and every farthing has been accounted for, with two regrettable exceptions for which I beg your indulgence.
Unfortunately, the sum of one shilling and ninepence remains unaccounted for in one infantry battalion's petty cash and there has been a hideous confusion as to the number of jars of raspberry jam issued to one cavalry regiment during a sandstorm in western Spain. This reprehensible carelessness may be related to the pressure of circumstances, since we are at war with France, a fact which may come as a bit of a surprise to you gentlemen in Whitehall.
This brings me to my present purpose, which is to request elucidation of my instructions from His Majesty's Government, so I may better understand why I am dragging an army over these barren plains. I construe that perforce it must be one of two alternative duties, as given below. I shall pursue either one with my best ability, but I cannot do both.
1. To train an army of uniformed British clerks in Spain for the benefit of the accountants and copy-boys in London, or perchance

2. To see to it that the forces of Napoleon are driven out of Spain.
Your most obedient servant,
WELLINGTON
August 1812
---
This letter was published by the Thai press in May 1998 when the country was experiencing the worst recession in a lifetime as the full effect of the previous year's devaluation of the Thai Baht was making itself felt. If any reader knows Edith Clampton to be a fake please tell me!
In Such Times, We Can All Do Our Bit
Many years ago, my late husband, Lord Clampton, bequeathed his entire estate to me, which means I am personally unaffected by the current economic hiccup.
But, like many of my friends, I felt it was necessary to beat the hardships if I were to remain living in this part of the world. I realised hard decisions had to be made by one and all - and not just the politicians. And I acted ruthlessly. I had tears in my eyes as I fired my gardener - but cutting costs is what this is all about.
But with every problem comes a solution. I immediately handed over his duties to my maid, Khun Hazel. Although Khun Hazel complained, I quickly reminded her she had a job where other people, like the gardener, had not. Very quickly she accepted the fact and now performs her extra duties quite cheerfully.
And extra duties don't stop there. We all need to tighten our money belts and lift a finger during this time. I have also taken it upon myself to ease the maid's burden and I now collect the mail from the box and also dust the downstairs' Wedgwood.
signed Edith Clampton
---
Ensure Elephants Carry Tail Lights
Bright idea spotted yesterday: A battery-powered flashing red tail light taped to an elephant's tail.
Elephants are difficult to see in the dark and are often hit by cars. Since noone seems interested in setting them free in a protected national park, the least we could do is to make "tail lights" on elephants compulsory.
Animal lover
.....reported in the Thai press in 1999
---
This exceptional obituary appeared in the UK's Daily Telegraph newspaper, published on 2 May 1988.
Obituary for Sir Hugh Rankin, 3rd Bt.
SIR HUGH RANKIN, 3rd Bt, who has died aged 88, was an extraordinary character whose eccentricity was remarkable even by the rarefied standards of the baronetage.
In the course of his colourful career he was variously a riveter's mate in a Belfast ship yard; a trooper in the cavalry; a sheep shearer in Western Australia and runner-up in the All Britain Sheep Judging Competition; president of the British Moslem Society and vice president of the World's Buddhist Association; and a campaigner for "an independent Red Republic of all Scotland, excluding Orkneys and Shetland".
His death deprives Who's Who of possibly its most entertaining entry.
He listed his recreations as "golf (holds an amateur record amongst golfers of Great Britain in having played on 382 separate courses of UK and Eire), shooting, coarse fishing, hunting, motoring, cycling on mountain tracks to tops of British mountains (President Rough Stuff Cycling Association 1956).
He also included: the study of ancient track ways; bowls tennis, archaeology (wife and himself are only persons who have crawled under dwarf fir forest for last 1/2 mile of most northerly known section of any Roman road in Europe, terminating opposite end of Kirriemuir Golf Course)..."
Born in 1899 in the middle of the Tunisian desert, the elder son of the traveller and big game hunter Sir Reginald Rankin, who survived being frozen to sleep in the Andes, shot the largest snow leopard on record in India and searched for the extinct giant sloth in Chile.
He was christened Hubert Charles Rhys Rankin but later changed his first name to Hugh. At one stage he adopted the surname of Stewart-Rankin and during his Moslem period also briefly assumed the forename of Omar.
He was educated at Harrow but ran away to work in a Belfast shipyard before joining the 1st Royal Dragon Guards as a trooper. In 1921 he was broadsword champion of the cavalry, but the following year, while serving in Ireland during the Troubles ("on the wrong side I'm afraid"), he was shot by a sniper and invalided out of the Army.
Rankin, who wrote articles on agricultural stock, then devoted himself to the study of sheep being elected president of the Clun Forest Sheep Breeders Association in 1928.
Ten years later he represented British sheep breeders in petitioning the Government on the problems of the industry. At the time he succeeded to the baronetcy in 1931 he was a "piece work" shearer in Western Australia, covering the area between Bunbury and Broome.
During travels in the M iddle East, Rankin came under the influence of the Moslem peer, the 5th Lord Headley, whom he succeeded in 1935 as president of the British Moslem Society. But a few weeks later he resigned after a rowdy meeting: "They
were very rude ... and nothing of law and order or methods of procedure. I was disgusted with the whole lot of them."
He then formed a new Society along orthodox and non-sectarian lines and in 1937 was the British representative to the first all European Moslem Congress in Geneva.
During the 1939-45 War he served as a captain in the Royal Army Service Corps in India but on being demobilised; "realised what an awful fool I had been to fight for Britain. If a revolution comes - and come it must after the next world war - I'll do my damnedest to see it succeeds."
He said that he had "always hated and loathed the Christian religion. The Moslem religion is a fighting one, so I dropped it and became a Buddhist." From 1944 he was a practising non-theistic Theravda Buddhist and claimed to be the second "Britisher" to perform the Holy Buddhist Pilgrimage.
In 1959 he declared it was "no news" that Abominable Snowmen existed: "It is part of our known belief that five Bodhisattvas ('Perfected Men') control the destiny of this world. They meet together once a year in a cave in the Himalayas to make their decisions. One of them lives permanently on the higher Himalayas. One of them lives in the Scottish Cairngorms.
Sir Hugh said that he and his wife had clearly seen the latter Bodhisvatta in the Larig Ghru Pass.
Rankin's political affiliations were equally varied: he joined the Labour Party in 1939 and was subsequently a Dominion Home Ruler for Scotland, a Scottish Nationalist, a Scottish Communist and a Welsh Republican Nationalist. In Who's Who he stated that he held "extreme political views" and was "now left-side Labour".
In 1950 he was elected to Perth County Council and declared, "I am a blood-red militant Communist in every possible way. Absolutely blood-red." He was a virulent critic of the Forestry Commission's alleged policies of depasturisation and turning out crofters and tenants.
In. 1965 he.claimed to be "the onIy baronet in the United Kingdom who is living on national assistance" and added that his title had always been a hindrance. Asked what job he might like, he replied: "Anything. Anything except being a butler. I hate snobbishness."
Among Sir Hugh's myriad distinctions were being Hereditary Piper of the Clan Maclaine and a "News of the World Knight of the Road (for courtesy in motor driving)".
His first wife Helen, widow of Captain Colin Campbell and eldest daughter of Sir Charles Stewart, the Public Trustee, died in 1945; he married secondly, in 1946, Robina Kelly, a nurse, who survives him.
There were no children of either marriage and the baronetcy now passes to Sir Hugh's nephew, Ian Niall Rankin, born 1932, whose mother, Lady Jean Rankin, is a longstanding Woman of the Bedchamber to Queen Elizabeth the Queen Mother.
---
The 19 January 2000 edition of The Nation, one of Thailand's two english language daily newspapers, carried this insight into the perils of city life. It followed the recent introduction of a new mass transit system called the Skytrain. The Skytrain is a very welcome and much praised addition to Bangkok's street scene but it has had some, possibly unforeseen, adverse consequences for female passengers.
Skytrain Stairs Raise Voyeurism Worry for Women
Bangkokians have warmly welcomed the skytrain system, which has made travel fast and convenient. However, women passengers run the risk of being the target of voyeurs while climbing the steep stairs leading to the elevated platform.
The steep stairs force female passengers to lift their legs higher, giving oglers standing underneath the chance of an illicit view.
Chatchada Chantorn, 17, a student at Ratchavinit Bangkaew School, said she now climbs the stairs carefully with her hands clenching her skirt to avoid exposing anything.
"I've seen many men ogle at unsuspecting women walking up the stairs. It's the taxi motorcyclists who form a major chunk of that group," she said.
"Police will not be able to arrest them because they will deny the allegation. Therefore, women need to be more alert," she warned.
However, police will insist that women should lodge complaints so that the offenders do not go unpunished.
"Just report the crime to us and we will rush to the scene and detain the suspects. They will be fined immediately," said Pol. Capt. Panom Chuathong.
He pointed out that although such lechers only face a fine of Bt500 [about US$14], the punishment would certainly help in reducing voyeurism.
"We've yet to receive a complaint from women about voyeurs at skytrain stations," the officer said.
He also said that if there were enough personnel, police would be assigned to each station to end such practices.
But female passengers tend to rely on their own precautions rather than seek help from the law.
"There are far too many voyeurs in our city for the police to deter each one of them. Worse still, it is possible that officers may turn into voyeurs," Jantima Puengsupa, 18, said.
Some women also have their doubts about why city officials sometimes set up their booths under the stairs.
"From their booths, the officials can enjoy leching at unsuspecting women and that might prevent them from falling asleep," a 17-year-old girl said.
---
The 15 June 2001 edition of the Bangkok Post, one of Thailand's two English language daily newspapers, included this article which challenges those of us who believe it is good that public services improve their customer efficiency - not all Bangkokians agree.....
CITY ADMINISTRATION

Polite Service Unsettles Public
The city's new "one-stop service" swung into action for the first time at Ratchathewi district office yesterday, but some residents were less than impressed.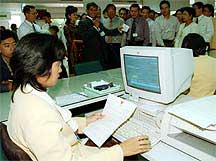 An official from Ratchathewi district office shows her computer skills which allow her to provide all the paperwork needed to register a house. The one-stop service was launched yesterday
The service, which operates mainly by computer, would make the offices a more desirable place to visit, said BMA (Bangkok Metropolitan Administration) deputy governor Mustafa Man-nga.
"Residents don't have to hang around for hours any more, because services for ID cards, birth certificates and house registration, can be finished in five or 10 minutes.
"Moreover, all services have been placed in one area, so people don't have far to go," said Mr. Mustafa.
Ratchathewi district office spent two million Baht setting up the service, including a "personality improvement course" for staff. "People used to complain that the officers worked slowly and treated them impolitely, but with the one-stop service, our officers will treat clients as if they are special people," said Sukhonta Kitikhunpiroj, the district director.
The service also provides a special room for people who want to make a complaint. "I will come in immediately if someone needs my help," Mr. Sukhonta said. Some staff could be made redundant as functions were taken over by computer. The service would spread gradually to all 50 district offices.
Sriprai Rodpachara, a customer who came to the office to register a birth certificate for her baby, said the new, modern office confused her.
Her husband, who declined to be named, said he felt awkward with the sudden change of the officers' personality.
"Last year I came here and asked one officer a question, he shouted at me and turned away, but today, it is ridiculous when every official smiles and gives me a wai." BMA governor Samak Sundaravej will formally open the Ratchathewi service on July 24.
---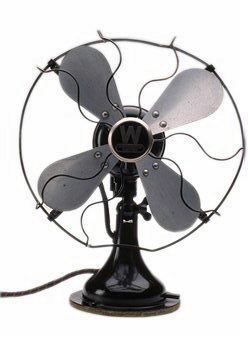 Whether bona fide or otherwise, this letter apparently written from the British Embassy in 1943 demonstrates how the British Foreign Service can so masterfully manipulate the English language.
In these days of political correctness, I apologise in advance for any irreverence, which is unintended.
H.M Embassy Moscow
Lord Pembroke
The Foreign Office
LONDON
8th April 1943
My Dear Reggie,
In these dark days man tends to look for little shafts of light that spill from Heaven. My days are probably darker than yours, and I need, my God I do, all the light I can get. But I am a decent fellow, and I do not want to be mean and selfish about what little brightness is shed upon me from time to time. So I propose to share with you a tiny flash that has illuminated my sombre life and tell you that God has given me a new Turkish colleague whose card tells me that he is called Mustapha Kunt.
We all feel like that, Reggie, now and then, especially when Spring is upon us, but few of us would care to put it on your cards. It takes a Turk to do that.
signed
Sir Archibald Clerk Kerr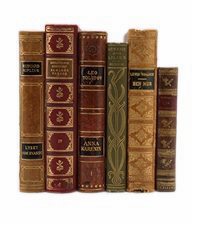 Home Page